December 20th, 2011
Nicole
Posted in
News
,
Videos
3 Comments »
Travel expert Pauline Frommer offers tips for traveling to Thailand.
December 17th, 2011
Nicole
Posted in
Budget Travel
,
Destinations
No Comments »
I will assume that at least some of you out there have at one time or another visited the fine city of Montreal.  For those who haven't, you're in for a treat.  Lots of old European charm, cafe culture and of course an epicurean paradise for those who consider themselves foodies.
But despite all of that good stuff going for them, they have incorporated some new world stuff, as well.  What to know about Montreal:
GETTING AROUND: The best way to tour la belle ville, especially Old Montreal, is by foot. Check out the city's Web site for a comprehensive walking tour guide map: http://www.vieux.montreal.qc.ca/tour/eng/0cartea.htm.
If walking's not your thing, hop on the metro. The city's Societe de transport de Montreal (STM) will efficiently move you between sightseeing spots across the island for $2.50 (Canadian $2.75) a ride. A transfer slip enables you to switch between the metro and bus at no extra cost. An unlimited tourist pass is available for $8 (CA$9) a day or $15.30 (CA$17) for three days. A number of lines are linked to the Underground City, one of the world's longest underground pedestrian networks of shops and walkways.
FESTIVAL FUN: Plan ahead to next summer and visit in early July when the sounds of jazz take over the city during the Montreal International Jazz Festival. This year, Stevie Wonder kicked off the fest with a free concert. About 150 artists join in the celebrations annually with many free outdoor shows; http://www.montrealjazzfest.com. The jazz event is always followed by the Just For Laughs festival, running this year through July 26, http://www.hahaha.com.
Or consider visiting in the winter. The Montreal High Lights Festival at the end of February features free ice skating, fireworks, live music and the Montreal All-Nighter, when galleries, theaters and dance venues stay open through the night. The 10-day festival also features a host of internationally renowned chefs who take residence in some of the city's best restaurants; http://www.montrealenlumiere.com/.
ARTS AND CULTURE: Trace the path of evolution at the free Redpath Museum, from dinosaur bones to fossils to Egyptian mummies. Check out its collection of over 17,000 anthropological and archaeological artifacts covering Ancient Egypt, South America, Sri Lanka and more. It's a great place for kids, offering an interactive learning experience; http://www.mcgill.ca/redpath/. The permanent collection at the Montreal Museum of Fine Arts is free at all times. Temporary exhibits are by admission only, which is half-price on Wednesdays; http://tinyurl.com/ncoz5v.
Musee D'Art Contemporain De Montreal (Museum of Contemporary Art) is free Wednesday evenings from 6-9 p.m., http://www.macm.org/fr/index.html.
The Centre of Design at the Universite du Quebec a Montreal presents works from Canada and international designers. Admission is free, Wednesday-Sunday, noon to 6 p.m., http://www.uqam.ca/nouvelles/2007/07-437.htm
The Centre Canadien d'Architecture is free on Thursday nights 5:30-9 p.m.; http://www.cca.qc.ca/.
Many museums in Montreal are free, but for those that aren't, think about the Montreal Museums Pass, $41 (CA$45). For three consecutive days, you can visit 34 various museums and have unlimited access to the metro and bus; http://tinyurl.com/n2l99h.
Get same-day half-price tickets to the opera, symphony, theater etc., through La Vitrine, a last-minute ticket venue at Place des Arts in downtown; http://vitrine.cyberpresse.ca
Always wanted to learn to cha-cha or waltz? Do it for free at Parc Jean-Drapeau. From June to August, on Wednesdays, Saturdays and Sunday evenings, dance instructors hold free lessons for those "So You Think You Can Dance" hopefuls.
FOOD: For an authentic eating experience, try one of the city's affordable public markets: Jean Talon, Maisonneuve, and Atwater Market are three of the most famous; http://www.marchespublics-mtl.com/
Before dinner, join the locals for the nightly "cinq a sept" (a 5-7 p.m. cocktail) when popular bars along St. Laurent, St. Denis and around the Plateau and Latin Quarter neighborhoods offer specials, two or three drinks for the price of one.
Look out for restaurants with the "Apportez-Votre Vin" (bring your own wine) signs. Restaurants that serve their own alcohol charge a high mark-up per bottle to cover the cost of the license required. You can also bring beer.
You can't leave the city without trying poutine, a messy melange of fries, gravy and cheese curds. Sounds odd, but it is a must-try. Hit the chain La Belle Province and fork over a toonie (the colloquial Canadian term for a $2 dollar coin) for the delectable dish.
Try Schwartz's, 3895 Saint-Laurent Blvd., for belly-pleasing meats, and let the smell of freshly baked bagels guide you to Saint-Viateur Bagels on 263 Saint-Viateur Ouest street; http://www.schwartzsdeli.com/index2.html or http://www.stviateurbagel.com/main/.
THE VIEW: Walk, bike or drive up to the summit of Mount Royal for a great panoramic view of the city. (The trek is approximately 45 minutes by foot.) From May to October, enjoy the Tams Tams, an outdoor hippie-fest drum jam session on Sunday mornings (located around the monument to Sir George-Etienne Cartier); http://tamtamsmontreal.net/english.html.
You can also check out the Piknic Electronik, an open-air electronic music event, also hosted every Sunday. There's a $9 (CA$10) entrance fee, but it's worth it if you're looking for a unique, family-friendly Sunday in the lovely city; http://piknicelectronik.com/organisation/.
December 5th, 2011
Nicole
Posted in
Destinations
No Comments »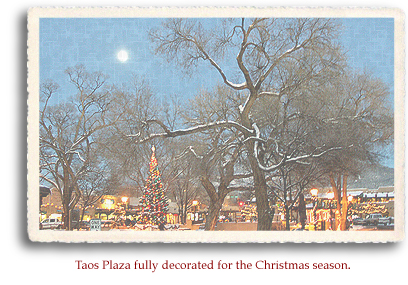 Folks, Christmas is just around the corner and yes, you don't necessarily have to spend it at home. After all, the world's your oyster – go and find your pearl! I have what I think are the best holiday hotspots that are out there that have a little something for everybody. Some are here in the States while others are international in location. My picks for where to spend your Christmas are:
Taos, NM
Why Go There: This remote village on a high desert plain is especially magical at Christmas, thanks to its rich mix of cultural traditions. Not to miss: historic Ledoux Street all lit up with luminarias(paper lanterns); the ceremonial reenactments of Mary and Joseph's search for shelter, called posadas; and the dramatic American Indian Christmas Eve celebration that takes over the main square in Taos Pueblo. Plus, you can ski all day long on Christmas Day at Taos Ski Resort, 18 miles away.
Holiday Dinner: On twinkling Ledoux Street, the seven-table hideaway Byzantium will offer its new winter menu—with dishes like shrimp ceviche and grilled pork scaloppine with apple, cabbage, and mustard-seed compote—beginning at 5 p.m. on Christmas Day. Reservations are a must.
Stocking Stuffers: For locally produced, mostly silver jewelry, including traditional American Indian styles, head to Mesa's Edge, just off the plaza. Or, stop by Kimosabefor cowboy and American Indian and Spanish colonial folk art collectibles.
San Miguel de Allende, Mexico
Why Go There: The Spanish colonial gem and cultural hot spot in central Mexico is electric at Christmas, with theatrical processions around town, numerous posadasreenactments, and fireworks, live music, and dancing in the main square, El Jardín. Don't miss a taste of ponche, a kind of Mexican hot toddy made of fruits and brandy, or the sweet bread rosca de reyes, both Christmas specialties.
Holiday Dinner: There's no dining setting more spectacular than La Capilla, located in the centuries-old "chapel" behind the main cathedral. This year, its Christmas menu includes delicate crêpes with huitlacochemushrooms and fresh house-made goat cheese; roasted lamb chops with sour orange and coriander sauce; and pork loin stuffed with fig and chipotle chutney.
Stocking Stuffers: Pay a visit to art and design center Fabrica La Aurora, the 1902-built former textile factory that's home to artists' studios, galleries, and a wealth of shops selling housewares, antiques, ceramics, jewelry, and other treasures. For edibles, pick up hand-painted Mexican chocolates and pecan meringues at the atmospheric boutique at La Capilla (above).
Tromso, Norway
Why Go There: The snowy city island of Tromso offers unparalleled views of the northern lights (look for them between 6 p.m. and midnight) and a chance to say you've been to the North Pole—well, the Arctic Circle, anyway—for Christmas. Plus, there's dogsledding, great food, and a mountaintop cable car. Here, "day" is just a couple hours of twilight blue.
Holiday Dinner: Go to the Clarion for a traditional Norwegian Christmas dinner at its restaurant, Astro. The chef will serve pinnekjøtt, cured lamb ribs, served with puréed rutabaga and boiled potatoes; and ribbe, a crispy version of spareribs, accompanied by Christmas sausage, apples, prunes, and red cabbage.
Stocking Stuffers: Norwegian chain Husfliden is the place to go for traditional clothing, including bunads (the Norwegian national costume) and handwoven sweaters. Blast, a glassblowing studio, sells the wares of its three resident artists.
Key West, FL
Why Go There: Good cheer and warm temperatures are typically Key West's winning attributes, and Christmas is no exception. The trimmed palm trees, done-up historic inns (tours Dec. 11, 12, 18, and 19), and four festooned blocks of boats along the historic waterfront (the "Bight Before Christmas") only amplify the town's merriment.
Holiday Dinner: Housed in a 1906 Victorian manse, Nine One Five's holiday menu mixes tapas (bacon-wrapped dates; duck liver pâté) with entrées such as Soul Mama seafood soup and mushroom risotto. Open Christmas Day 6–9 p.m.
Stocking Stuffers: Bésame Mucho is your best bet for sensual gifts like perfume or handwoven shopping bags made from palm fronds. Despite its moniker, local department store Fast Buck Freddie's stocks tasteful—and sometimes whimsical—housewares and clothing.
August 24th, 2011
Guest Blogger
Posted in
News
No Comments »
The other day, I wanted to escape to a hotel to get some work done for a few hours. I needed excellent Internet access, a comfortable room, good food on site (I planned to eat lunch there) and I wanted to pay about $100. I wanted to check-in early (about 10 am) and I would be checking out at 11pm or midnight or so.
Did I hop on the Internet and start searching? Nope. I called my personal concierge Francisco and told him my requirements. He called back in 10 minutes and told me I was all set up and Wilbur would be picking me up in 20 minutes to take me to the hotel.
The cost for this excellent concierge service? $0. Zip. Notta. Zilch. Free.
Of course Francisco doesn't call himself a concierge. He calls himself a driver. If he hadn't been busy with another customer, he would have picked me up himself instead of sending Wilbur.
The reason Francisco was willing to do that for me for free is that Costa Rica works like an affiliate program. Most restaurants, hotels and tourist activities will all pay a commission to any Costa Rican who brings in new customers. He was paid by the hotel, not me.
The commission program is really only available for the Costa Ricans so I couldn't have really done that myself and collected the commission. The cost to me is exactly the same whether I use Francisco's free concierge service or if I go through all of the hassle to find the place myself.
Also, since everyone basically offers commissions, Francisco really wasn't tempted to send me to an inferior place or anything like that just to get a higher commission. He was going to recieve a commission regardless of where he sent me and he knew I would call him back again and again if he found me a good place. He did just as he has done for me dozens of times.
Would you like a free concierge service here in Costa Rica? Just leave a comment and tell me where you are staying or give me a phone number. I'll have Francisco or one of his friends call you right away. From that point on, I think you will find your stay a lot more pleasant when you always have you own free concierge to call to set up anything you wish.
The author lives and plays in Costa Rica when he isn't helping others learn how to live and play in Costa Rica.
November 14th, 2009
Nicole
Posted in
News
,
Videos
No Comments »
The world's largest cruise ship has arrived in Florida. The Oasis of the Seas docked Friday at Port Everglades in Fort Lauderdale.
July 26th, 2009
Nicole
Posted in
Destinations
,
Food & Drink
No Comments »
Love to eat?  Sure you do.  Like your food a cut above your mainstream meals that you have at home?  Don't we all?  Better yet, do you like to enjoy them under sunny warm skies in a location that does not include your home address?  Then you're in luck. 
There's a cornucopia of Caribbean countries (even Puerto Rico) that are hosting food festivals celebrating all things Caribbean, lasting all the way through July 2010.  Some impressive festivals including:
Puerto Rico Wine & Food Fest, to be held in San Juan, August 28-29.
The Taste of Barbados, an island-wide event, is scheduled for October 7-11.
The Conch Festival, at Blue Hills, Providenciales, Turks & Caicos, takes place on November 28.
The St. Croix Food & Wine Experience in Christiansted is scheduled for April 13-17, 2010.
The Trelawny Yam Festival in Trelawny, Jamaica, will be in April 2010.
The Taste T&T, in Port-of-Spain, Trinidad, will be held in May 2010.
The San Pedro Lobsterfest at Ambergris Caye, Belize, takes place in June 2010.
The Portland Jerk Festival in Portland, Jamaica, is held in July.